This is Surface N° 2
Welcome to Surface N° 2: an edition that features the work of internationally well-known artists and collectives who achieve fascinating multilayered effect in a wide variety of picture narratives. From cityscapes and landscapes, to scenic compositions, and to portraits of animals and people, the range of interests represented by these artists through the camera lens is wide. Their extremely multifaceted and high-resolution perspectives on the world are emphasised by paper from the Arctic Volume Range – with its outstanding print quality, distinctive surface and natural feel.
Surface N° 2
Hyperreal
Contemporary photography is characterised by strong contrasts. In digital media, image production is characterised by repetition and transience. Professional visual art, however – created with very high standards – is concerned with originality of authorship and permanence. But for both approaches, hyperrealism has become a benchmark.
Digital filters and editing tools are constantly being improved, making mass photography snapshots look like high-end works of art. But photographers, who hold on to the value of an individual image, create a hyperrealistic rendering of the world through attention to great detail – with precise motif choice and thought-through compositions as the distinguishing factors. Their artistic treatment has the goal of deepening the content of the image, making several hidden layers visible to the eye and, in effect, creating an artwork that is even more realistic than reality.
Hyperrealism describes the portrayal of something that aims to be "realer than real" – the exaggerated image of an existing object that unravels its minute details and normally imperceptible facets. Reality and fiction seamlessly blend together so that there is no clear distinction between where one ends and the other begins.
Order your own copy of Surface N° 2 soon!
Surface N° 2 is available as a limited edition and only while stock lasts. Don't miss out on this chance to order your own copy.
Thank you for your order!
We received your order and will begin processing it soon.
A mini gallery of beautiful prints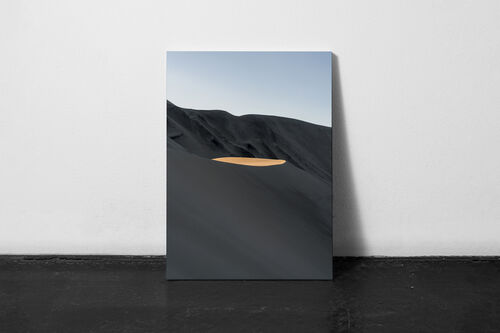 Surface N° 2 is printed on high-end Arctic Volume paper, portraying images just as the artists envisioned. The tear-out pages bring you your own little gallery of individual prints.
The features of Surface N° 2

Surface N° 2 is printed on a variety of different paper types from the Arctic Volume Range ­– including 4 different shades and grammages between 90 to 300 g/m².
Concept and design JUNO, Germany
Printer Göteborgstryckeriet, Sweden
Bookbinder Nilssons Tryckeri, Sweden
Printing press Komori Lithrone S40P HUV
Screen FM20µ
Ink VanSon Best Cure UV TIO Process
Varnish used on outer cover
Other Issue
Surface N° 1 featured a portfolio of various perspectives, landscapes and textures, highlighting the world in all its detailed beauty.